At DePalo and Sons Auto Body, located in Huntington Station, New York, we are a Volvo Certified Body and Paint Service Center which means that we have the tools, training and procedures to handle repairs on your Volvo. The Volvo manufacturer inspects our shop every year to confirm that we are current on our training and have the ever-changing repair protocols from the blueprints of each Volvo model. Volvo's certification standards align with our ambitious standards at DePalo and Sons and focus on key areas such as management of our facilities, competency of our technicians plus our investment in tools and equipment. We also recommend use of Genuine Volvo replacement parts which are engineered for your vehicle and are the safest option if ever faced with another accident. The staff at DePalo and Sons want to provide our customers with an exceptional level of service and peace of mind throughout a stressful process. Our partnership as a certified Volvo body shop enriches our service to our customers.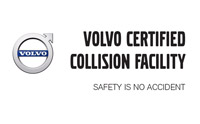 Our Volvo Certified Collision Center provides:
Repairs performed and matched with Volvo's technological advances
Trained technicians who are qualified to repair all Volvo models
Special tools and equipment which are approved by the Volvo manufacturer
Liaison with insurance company to help with claims and questions
Volvo Genuine Parts available and covered by Volvo's 24-Month Limited Warranty
Superior customer satisfaction and commitment to our customer's feedback
For more information on the Volvo Certified Body and Paint Center program, visit https://www.volvocars.com/us/own/owner-info/service-by-volvo/certified-collision
Call DePalo and Sons at 631-421-2111 or stop in to talk with us about your Volvo vehicle!